Maryanne's Work
Maryanne Chisholm is an acclaimed Surreal Painter and Illustrator. Her work has shown in Galleries Internationally and across the nation including at the Herberger Theatre and Art Gallery in Scottsdale and Tempe, AZ, Milan Fashion Week with the #DressME MADS Milano Exhibition, and at the Freedom of Arts exhibition in Denver, CO. Her artwork has appeared on the Conan O'Brien show, and is available for purchase at at several galleries and online. In 2021 Maryanne was awarded the Collectors Vision Award, by Contemporary Curator Magazine, for completing a body of socially significant work.
Contact Maryanne directly for custom portraits.
You can watch a short film compilation of her collected work by clicking HERE, or the painting shown on the left.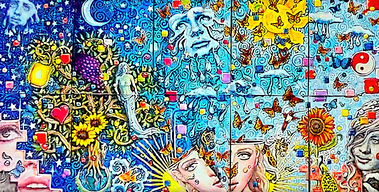 Maryanne's Process

Maryanne's pieces range from multi-media watercolors with layered paper, to stretched canvas on wood frame. She works with watercolor and enamel over low quality images on giclee to achieve the smoothness often not found, and provides an uncommon element of the art.
Please inquire to order one of these pieces.
MaryanneChisholmArtist@gmail.com

Maryanne Chisholm is a wife and mother, 55 years old, and lives in Tucson, Arizona with her husband and family. She has three grown children. She is an accomplished portrait artist of pets & people, and additionally works with NFT's, and in surrealism and illustration.